Dear Everyone,
I've been completely remiss in my regularly-scheduled podcasting duties. Please, allow me to make it up to you, with this clip of video from Todd Rundgren's Utopia "Ra" era tour, circa 1977. As heard on the April 21 Gates of Delirium show, this Herculean concert cost something like $250,000, much of which probably went for the construction a 22-foot-tall pyramid and a golden sphinx:
Presumably, this augmented the dubious allusions to Egyptian theology made throughout "Ra," such as frequent praise and communion with a sun deity, or the fantastic battle between elemental forces in the "electrified fairytale" called "Singring and the Glass Guitar." The lengthy, absurd song–which bordered on half an hour during live performances–depicted each band member as a brave warrior fighting his element in search of magical keys: drums vs. water, bass vs. wind, keyboards vs. fire, and guitar vs. earth. This culminated at the end of the concert with Todd Rundgren's guitar solo (on a guitar which very well may have been at least part glass), which he would play as he climbed up to the top of the pyramid and then leapt off.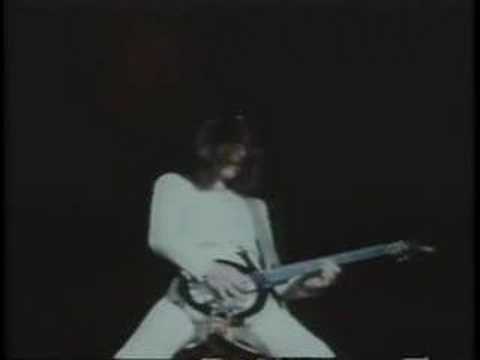 I highly recommend you seek out the whole song if–like me–you enjoyed watching Labyrinth or Dune more than the Lord of the Rings trilogy. Or for the next time you imbibe some mind-altering substance, I suppose.
Love,
Gates of Delirium
Related posts:
Related posts brought to you by WordPress MU Related Posts Plugin.